Choosing an instrument for your child to study can seem like a daunting task, but rest assured, there are many ways to discover which instrument is a good fit for your child!
In general, it's best to try and keep your options open, but it's also important to choose something that will keep your child's interest. Always consider the practicability of an instrument and the temperament of your child so that your child has the best chance of enjoying their new instrument as more than a passing interest.
One way to gauge their interest is to let them explore various instruments at their leisure. Music stores can be a good place to look because they usually let customers play and explore the instruments they sell.
The Right Size
When choosing a new musical instrument, be aware that some instruments are larger than others, and are made for adult hands, although most instruments are also made in child sizes.
You may also want to consider child-size versions in the same instrument families. For example, instead of trying a baritone saxophone, try the slightly smaller alto sax.
Size is very important because playing incompatible instruments can often cause tension, leading to fatigue, frustration, and in some cases, possible strain injury.
Common "Starter" Instruments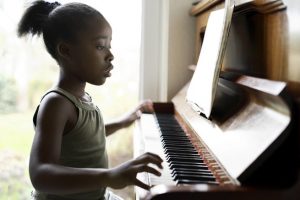 Piano – The most common "starter' instrument is the piano, a classic instrument that has been played throughout history by many cultures around the world. One benefit to starting on the piano is that all notes can be easily seen right in front of the player, which can help new learners better visualize the musical spectrum they're playing with.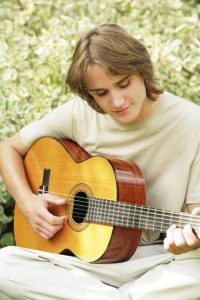 Guitar – Another popular choice is the guitar. Whether your new student wants to enjoy the natural tones of an acoustic, or rock out on an electric version, this stringed instrument can be an exciting choice. And besides the inherent "cool" that a guitar can convey, it can also be a stepping stone to learning other similar instruments such as the Bass Guitar, Mandolin, Banjo, and Harp.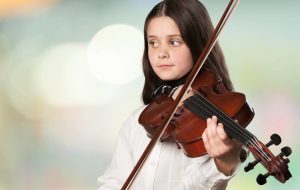 Violin, Viola & Cello – For those that are more interested in a classical or orchestral sound, traditional stringed instruments may be the right fit. Just be aware that these classical stringed instruments can have a bit of a steeper learning curve, so they might be best for children who are more focused and disciplined.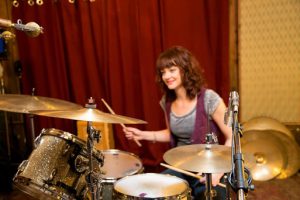 Drums – One of the most popular percussion instruments is the modern drum set. Percussion provides the backbone and rhythm to any song, and can help develop or enhance coordination since it requires both hands and both feet to play the full instrument. It is a great instrument for children with lots of energy!
And just in case you don't want one of the loudest natural instruments being played in your quiet household (or garage), there's always the option of using an electronic drum kit, which allows the player to set an appropriate volume level for their surrounding environment, or just simply put on headphones and play as loud as they want.
Skills That Improve Through Learning Music
So now that you've chosen your child's first instrument, what can they get out of it?
Early Musical Education studies have shown that music training in the first decades of a child's life increases aural acuity and intelligence, as music uses both right and left hemispheres of the brain.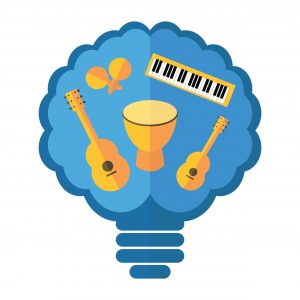 Playing a musical instrument also helps the brain develop by involving multiple parts of the brain including the Central and Peripheral Nervous System. Additionally, performing music can lead to growth in motor skills, sensory, and memory skills. It can even raise IQ levels.
The simple practice of learning an instrument can help with time management and organizational skills, as well as perseverance, since it takes time, effort, and dedication to learn. Fine motor skills and spacial awareness are also enhanced; playing an instrument requires hand-eye coordination as eyes are mostly on the music/conductor/audience while the rest of the body does several other things simultaneously to play the instrument with accuracy.
Reading, comprehension and mathematical skills can improve as well. Counting notes and rhythms improves math comprehensions, as reading music notes has shown to have great impacts on a child's cognitive skill. Better focus and concentration can also be side effects of learning a new instrument.
Match the right instrument to your child and they will have a learning experience like no other.